Tips on How Often to Clean Your Kitchen Hood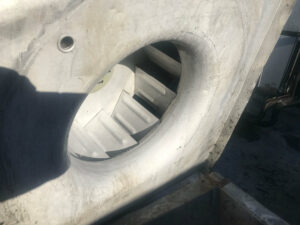 It has been a while since you last cleaned your kitchen's hood. You need to clean your kitchen hood vent regularly and occasionally monthly in order to avoid cooking fires. Detroit Hood Cleaning Pros offers commercial hood cleanings that are affordable and thorough to ensure safety in your kitchen.
Kitchen Hood Cleaning Reasons
Commercial hoods can often be difficult to clean. Grease can build up and cause many problems.
Disease Prevention
Cleansing range hoods promotes hygiene by removing grease which attracts vermin.
Ventilation Enhancement
Cleansing your kitchen exhaust system will prevent lingering smells, smoke, steam, or odors from food particles from permeating the kitchen.
Code Compliance
Commercial kitchen owners that want to maintain compliance with fire codes must keep their commercial hood clean or lose their business.
Reduction in Insurance Premiums
Insurance companies are known to offer discounts on their rates for kitchen owners who maintain a clean kitchen.
Lower Fire Risk
Professional range hood cleaners thoroughly inspect your hood and make any necessary repairs to prevent fires.
The NFPA Kitchen Hood Cleaning Requirements To Enhance Fire Safety
The NFPA (National Fire Protection Association), has established a cleaning schedule for restaurant exhausts and hoods. This is the cleaning schedule that they have to follow.
MONTHLY-Systems serving solid fuel cooking operations

QUARTERLY Systems that are capable of handling high volumes of cooking operations, such charbroiling and 24-hour cooking.

SEMIANNUALLY-Systems for medium-volume cooking operations

ANNUALLY-Systems serving low-volume kitchen operations such as churches and senior centers, day camps, seasonal business or seasonal businesses.
According to NFPA Kitchen Hood Cleaner's Requirements, "Upon inspection if found to contain grease-laden vapors, exhaust system shall, upon inspection, be cleaned by a competent, qualified, and licensed company or individual
Also, ""Hoods," grease removal devices and fans, ducts, ducts, and any other appurtenances should be cleaned to remove any combustible contaminants before surfaces become highly contaminated.
The NFPA's "NFPA 96″, Standard for Ventilation Control and Fire Protection of Commercial Cooking Operation" catalog is available for download at no cost on their website.
The exhaust system includes the hood and filters, fan and all related horizontal and vertical conduit work.
Cleaning Your Commercial Hood: When is it best?
It would be best to clean your commercial chimney when:
You notice that the hood doesn't clear smoke from the kitchen.

Your motor is louder.

You have consistently prepared a high number of dishes.

You notice persistent odors.

You're about to cook a big meal
How Often Should You Clean Restaurant/Commercial Hoods?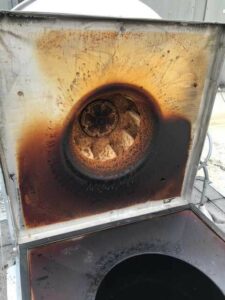 Depending on the type of hood you have and how frequently it is used, your restaurant or commercial hood may require more frequent cleaning. For safety reasons, commercial hoods or restaurant hoods need to be cleaned every month. Hospital kitchens can choose to clean their hoods every 90-days if there is less demand for cooking.
Seasonal cleanings should suffice if your home has a kitchen hood. You should still be cautious and book regular inspections. It doesn't matter what type of hood you have, your filter should be changed at least three times per month.
How to Clean Your Range Hood
You might wonder how to clean your kitchen hoods effectively and get rid of all the grease. Commercial hood cleaning involves several steps. Here are the steps:
Begin by taking out or popping out the reusable filter.

You can soak the filter in a dishwashing detergent and degreaser.

Then scrub and rinse the filter. Put it back into your commercial hood.

Spray the degreaser onto the hood and let it rest for approximately 15 minutes. Cleanse and rinse.

The vent should be cleaned of all grease.

If your vent is clogged with grease, it's best to contact a professional.

To clean the blower motor, use the same degreaser.

If your fan is still struggling, you should consider replacing the motor.
Professionals are Available to Help
Detroit Hood Cleaning Pros are the right choice if you need professional kitchen vent cleaning in Detroit. Detroit Hood Cleaning Pros have years experience cleaning hoods. They also provide cleaning services for the top restaurants.
No matter whether you have a commercial hood in a hospital or restaurant, our highly trained technicians will inspect your hoods at your convenience and ensure your property is safe for serving another amazing array of delicious dishes.
Call Detroit Hood Cleaning Pros at 313-425-7633 today!