How to Clean a Commercial Griddle
It is possible to prolong the life expectancy of your commercial greaser by knowing how to clean it.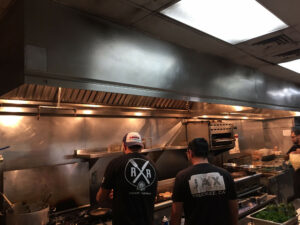 Detroit Hood Cleaning Pros is a team of highly trained technicians who have spent years improving their kitchen cleaning skills. We're happy to share with you some of our most effective commercial griddle cleaning tricks.
How to Clean a Restaurant's Grill
There are many options for cleaning griddles, depending on their type and level of cleanliness.
1. Vinegar Cleaning Method
A good method is to clean the griddle with vinegar. Fill a spray container with a 1:1 solution of vinegar and water. Spray the vinegar solution onto a griddle. Use a damp towel to wipe the surface.
2. Commercial Griddle cleaner Solution
A griddle cleaning solution can be purchased at your local grocery store (e.g. Scotch Brite's gride cleaning packets and Stera Sheen's grudge surface cleaner are both available in the shop. Follow the instructions on each bottle. For this method of maximum effectiveness, you'll need a cloth to clean the griddle and a pad to clean it.
3. How to Remove Rust from a Commercial Griddle
To remove rust from a commercial griddle you'll need a griddle stone (or a sponge made of steel wool), some oil, and paper towels.
Use your grill stone to rub the oil onto the rusty surface. The oil can be removed with your paper towels. Repeat this until you remove the rust from the griddle.
Get Professional Kitchen-Cleaning Help
Detroit Hood Cleaning Pros has the answers to all your questions at 313-425-7633.